SEPTEMBER 30: FINAL Spain Vs Cameroon
This match was a final, played at the main Olympic stadium, Stadium Australia. Our seats were well positioned, at an end, in the second last row, in the corner. Out view can be seen from the photos below. The final was played between Cameroon and Spain. Spain scored quickly after kick-off with a free kick scored by Xavi. Within a few minutes Spain won a penalty. Unfortunately for them, Miguel Angel Angulo missed the penalty. Spain scored again at the end of the first half with another goal from Gabri. The second half was a different story as Cameroon went on the attack. They scored two goals, one an own goal and the other a well put together goal scored by Samuel Eto'o. Spain were struggling, especially when two players; Gabri and Jose Mari (2 yellow cards for diving) were sent off. With a two man advantage in the golden goal extra time Cameroon should have won it. Their tactics were not taking advantage of the extra man, as they were not using the whole field to create spaces, and left players whilst attacking to defend no Spanish attackers. Spain managed to hold on to reach a penalty shoot-out after a 2-2 draw. This penalty shoot-out was played up our end so we could see it well. All the penalties were very well taken apart from one, where Spain failed to score and so lost the shoot-out. The medals were then presented; gold for Cameroon, silver for Spain and bronze for Chile who played the night before.
The ticket to this match is shown below: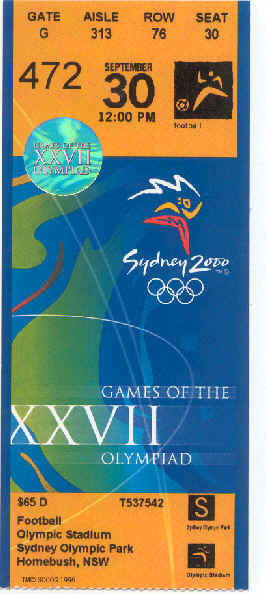 The photo below shows the teams prior to kick-off.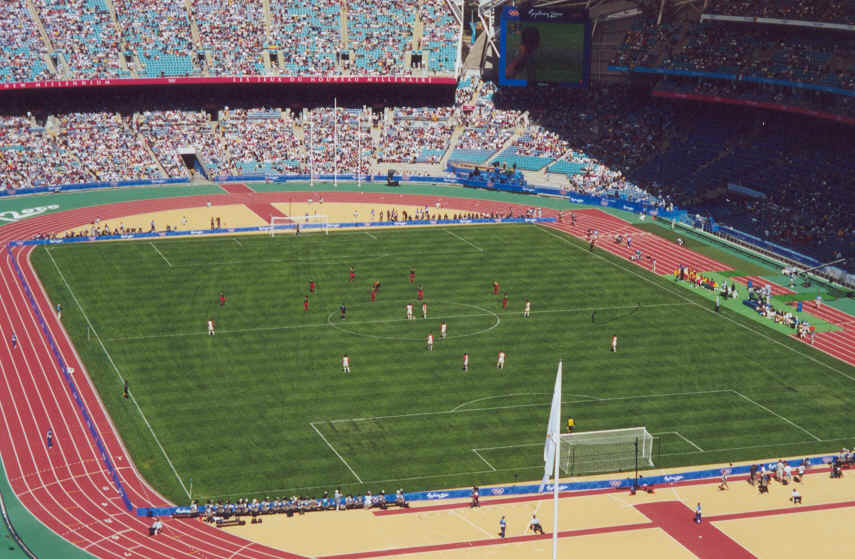 This next photo shows a Cameroon player taking a penalty in the shoot-out.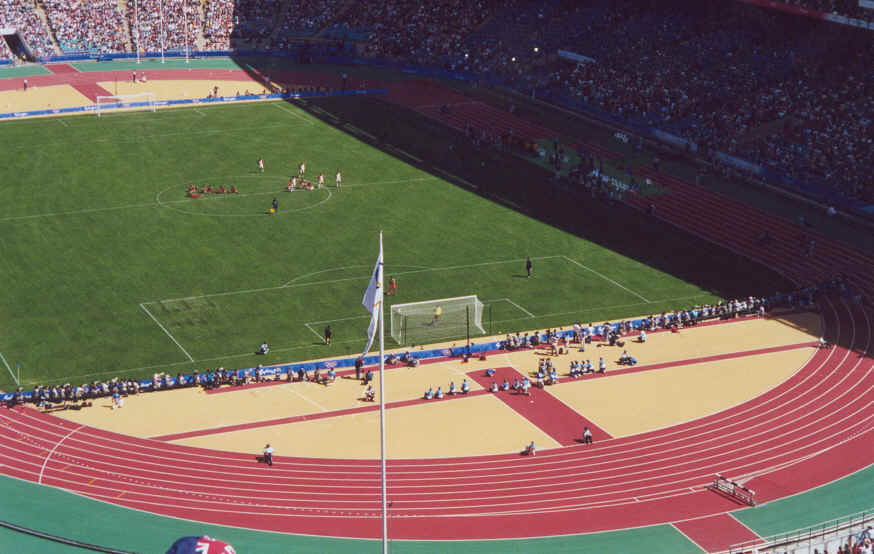 Click here to go back to the tournament review page