MATCHES AFTER EURO 2000
4/9/00 England 1-1 France
The first match for England after Euro 2000 was a friendly against the World and European champions France at the Stade de France. This ended in a creditable 1-1 draw for England who equalised late in the game with a Michael Owen goal in the 86th minute following a 64th minute strike from Emmanuel Petit. The left side which has been a problem for England for so long, actually performed well with Barmby and Barry. The formation and subsitutions for England are shown below.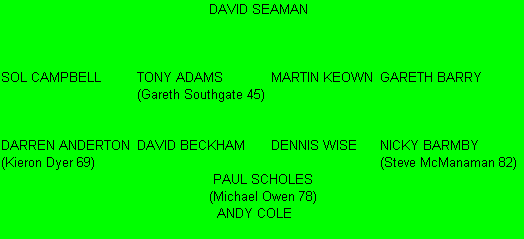 7/10/00 England 0-1 Germany
In the last game at Wembley tactically England were not a match against the Germans. In the first half, normal centre back Gareth Southgate replaced injured Steven Gerrard and looked totally out of place in midfield. There was disorganisation in the wall which gifted Dietmar Hamann an easy free kick to score in the 13th minute. The formation did not work and was changed at half time to a back three with Le Saux and Dyer providing width. This led to improvement but England could not win. Kevin Keegan resigned as manager after the game as he could not handle the tactical pressures of being in charge of England.

11/10/00 England 0-0 Finland
England were in disarray after Keegan's resignation and having key players including Beckham, Adams, Le Saux, Gerrard and Gary Neville injured. In their places Howard Wilkinson was the caretaker manager for the second time and Martin Keown became the stand-in skipper in place of Adams. It was a close game but England should have won after a clear penalty was denied and Ray Parlour's shot, which hit the underside of the bar and looked like it crossed the line before bouncing out, was not given as a goal.

15/11/00 England 0-1 Italy
Peter Taylor was in charge of England in this friendly, with Steve McClaren as an assistant. Taylor, the ex-England U/21 and current Leicester manager, chose a young team to give experience and experiment with new players. David Beckham was given a key central midfield role and the captaincy, Rio Ferdinand became the centre of the defence and with injuries reducing offensive options Emile Heskey became the focus of the attack. England lost the game due to a well taken goal by Gennaro Gattuso in the 57th minute, but still performed well to show their new manager, Sven Goran Eriksson, who will take over in mid 2000, and was watching in the stands that their is potential in the side.

Click here to go back to the English national team page